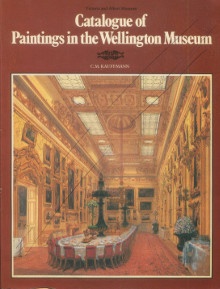 Catalogue of Paintings in the Wellington Museum
Kauffmann, C. M.
Her Majesty's Stationery Office, Government Bookshops, London, 1982.
British Museums - History of Collections -Spanish Royal Collection - Wellington Museum - Duke of Wellington - Aspley House - Napoleonic Period - Catalogue of Paintings - Paperback - Used
In-8, broché sous couverture illustrée en couleur, 176 pp.
Nombreuses illustrations en noir et blanc in texte.
Etat d'occasion.
afficher le sommaire
Foreword - Introduction : history of the collection - Chronology of the Duke of Wellington - Picture Frames and picture hanging at Aspley House, by Simon Jervis - Abbreviations - List and descriptions of the Wellington pictures - Explanation of terms - Catalogue and illustrations - Seguier's list of 1813 - Index to catalogue of 1901 - Concordance of numbers - Changes in attribution - Subject index.
In 1947, the 7th Duke of Wellington presented to the nation his London residence -Aspley House- together with a large part of its contents, the collection of the 1st Duke.
There has seldom been a gift of equal magnificence. Among the paintings are some of the finest canvases from the Spanish royal collection, captured from the French at the battle of Vitoria in 1813 and subsequently presented to the Iron Duke by Ferdinand VII of Spain.
There are also important seventeenth century Dutch paintings bought by the Duke himself, as well as a series of portraits of his illustrious contemporaries and depictions of battle scenes, which provide a visual record of the Napoleonic period.
This catalogue, which contains detailed entries for 200 pictures -including masterpieces by Velazquez and Murillo, Jan Steen and de Hooch, Corregio and Rubens- is the first thorough treatment of the collection since the catalogue of 1901, which has been long been out of print.
SUR LE MÊME THÈME
---