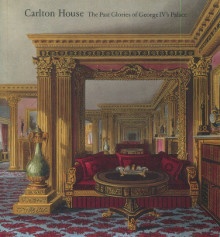 Carlton House The Past Glories of George IV's Palace
Nigel Arch
The Queen's Gallery, London, 1991.
Carlton House The Past Glories of George IV's Palace - London - Architecture - Royal Collection : Arms - Furniture - Pictures - Porcelain - A Romantic Interior - Entertainments at Carlton House - Catalogue of Exhibition - Paperback - Fairly Good Condition
Fort in-8, broché sous couverture illustrée en couleur, 240 pp.
Abondante iconographie en noir et en couleur.
Bon état d'ensemble malgré de menus frottements en couverture, ride sur le dos.
afficher le sommaire
Acknowledgments - Chronology - General Introduction - The Collection : Furniture. - Pictures. - Plate. - Porcelain. - Arms - Catalogue - Index.
Ce catalogue a été édité à l'occasion de l'exposition Carlton House The Past Glories of George IV's Palace présentée Queen's Gallery, Buckingham Palace, à Londres, en 1991-1992.
En 1783, George, Prince de Galles, futur roi George IV (1762-1830), se vit attribuer Carlton House comme résidence officielle.
Durant les décennies suivantes, Carlton House fit l'objet de travaux et transformations incessantes. Pas moins de cinq architectes participèrent à ces campagnes de travaux : Sir William Chambers (1723-1796), Henry Holland (1745-1806), James Wyatt (1746-1813), Thomas Hopper (1776-1856) et enfin John Nash (1752-1835).
SUR LE MÊME THÈME
---