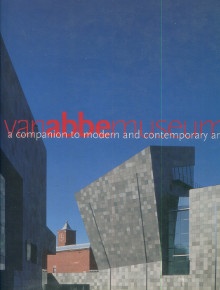 Van Abbemuseum - A companion to Modern and Contemporary Art
Jan Debbaut & Monique Verhulst
Van Abbemuseum, Eindhoven, 2002.
Dutch Museums - Van Abbemuseum - Eindhoven - History of Collections - Hardcover - Dust Jacket : Fairly Good Condition - Book : Good Condition
In-4, reliure pleine toile éditeur sous jaquette illustrée en couleur, 200 pp.
Nombreuses illustrations en noir et en couleur.
Texte en anglais.
Bon état d'ensemble. Menus frottements sur le bord supérieur de la jaquette.
afficher le sommaire
Introduction, Jan Debbaut - A History of the Van Abbemuseum in five episodes, René Pingen -I-XXV - List of Illustrations - Index - Colophon.
The Collection of the Van Abbemuseum in Eindhoven has come to be one of the most prominent collections of modern and contemporary art in the Netherlands.
Internationally as well, the museum's collection enjoys a considerable reputation. During the roughly sixty-five years of its existence, the Van Abbemuseum has collected more than 2500 works of art. This publication is the first annotated reference on the collection to be compiled since 1982.
Richly illustrated with more than 300 reproductions, this collection catalogue shows the museum's top works by classic modern masters such as Picasso, Braque, Kandinsky, Chagall, El Lissitzky, Léger and Mondrian, but also those by well-khnown postwar artists such as Beuys, Broodthaers, Kiefer, Kounellis, Horn and Polke.
SUR LE MÊME THÈME
---