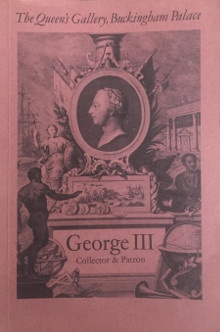 George III
Collector & Patron
The Queen's Gallery, Buckingham Palace, London, 1974-75.
In-8, broché sous couverture illustrée, 80 pp. - pl.
Avec 19 planches en noir et blanc en fin de volume.
Textes en anglais.
Bon état d'ensemble.
afficher le sommaire
Introduction - Abbreviations - Catalogue [181 n°] - Plates - Genealogical Table.
Ce catalogue a été édité à l'occasion de l'exposition George III Collector & Patron - An exhibition of Paintings, Drawings, Furniture, Clocks, Porcelain, Silver, Scientific Instruments, Books, Miniatures, Gems présentée à Buckingham Palace, The Queen's Gallery, à Londres [1974-75].
"The most important single purchase the King ever made was in 1762, when he acquired the collection of Joseph Smith, the former British Consul in Venice, at a cost of £ 20,000. [...] In the same year, the King acquired another major collection of Italian drawings, principally of the seventeenth century, when he purchased from Cardinal Albani, through the mediation of the architect James Adam, three hundred volumes collected by Pope Clement XI."
SUR LE MÊME THÈME
---